12th Berliner Hörspielfestival, open-air and live-streamed
Akademie der Künste, Hanseatenweg + Live stream
International competition and accompanying programme with live audio plays, workshop talks, installation and audio walk
Hörspielfestival: 12 – 15 Aug 2021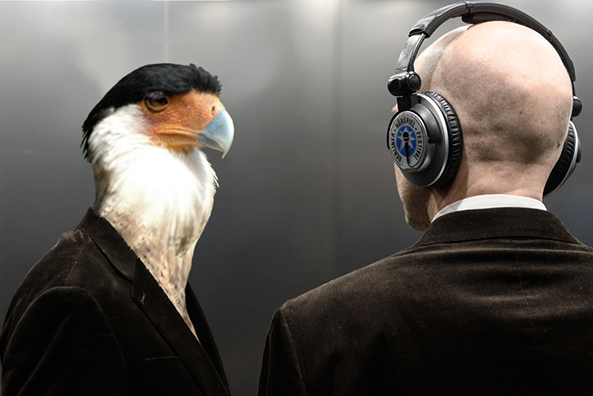 Picture © Beims/Luncke/Schäfers/de West
The Berliner Hörspielfestival (Berlin Audio Play Festival, est. 2008), the festival of independent audio pieces, is taking place at the Akademie der Künste for the second time. This year the festival will take place open-air around the Akademie's building at Hanseatenweg and will also be streamed live. With over 250 submissions, the 2021 festival has already set a new record.
Over the course of four days, some fifty radio plays ranging from 60 seconds to 60 minutes will compete in five German-language and one international competition for the audience and jury prizes. Video artist Josef Maria Schäfers will create a visual for each piece. After the performances there will be talks with the playwrights, hosted by Golo Föllmer, Heidi Heidelberg, Frank Kaspar, Robert Schoen and Britta Steffenhagen.
All the audio plays at the festival are produced independently of public service broadcasters and audio publishers. Liberated from economic constraints and format specifications, they offer a diverse mix of narrative, documentary and sound art forms.
The competitions will be supplemented by a varied accompanying programme of live audio plays by Armin Chodzinski, Christian Berner & Frank Schültge, Carsten Schneider and the Liquid Penguin Ensemble. The programme also includes workshop talks involving Hermann Bohlen, Ulrich Gerhardt (both members of the Akademie der Künste), Charlotte Drews-Bernstein and Felix Kubin as well as the installation Der Absprung (2018) by Paul Plamper (also a member of the Akademie) and the interactive audio walk AliceD: Time-Tea by Bruno Pilz.
NOTHINGTOSEENESS Void/White/Silence
An exhibition by the Akademie der Künste in the context of the BERLIN ART WEEK
Exhibition: 15 Sep – 12 Dec 2021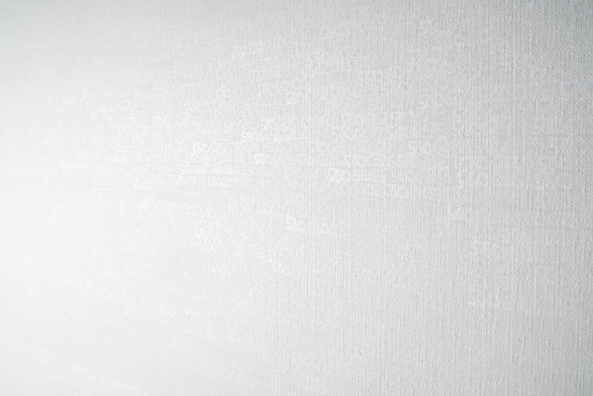 Roman Opalka, Opalka 1965/ 1-∞; Détail 5 603 154 – 5 607 249, n. d., acryl on canvas, 196 x 135 cm. © VG Bild-Kunst, Bonn 2021. Photo: Baschang & Herrmann, München. Courtesy: Sammlung Lenz Schönberg, Austria
The broad spectrum of meaning of the colour white, of void and silence in the visual arts, and the associated difference between materiality and immateriality, is at the focus of the exhibition and event project featuring international artists in the Akademie der Künste at Hanseatenweg. The aim is to explore artistic/aesthetic practices from the 1950s/60s until the present day that have brought about critical and process-based artistic positioning at international level in selected circles. The focus is on the "question of seeing (...), the visual non-slipping" (John Cage, 1961). In addition to colour, material, void, and silence, the exhibition and the accompanying programme will reference themes of keeping silent and narration in literature, performance, music and architecture.
With Absalon, Peter Ablinger, Frank Badur, Mirosław Bałka, Rosa Barba, Jo Baer, George Brecht, Günter Brus, John Cage, Enrico Castellani, Rutherford Chang, Max Dax, Ulrike Draesner, Maria Eichhorn, Olafur Eliasson, Ulrich Erben, Ceal Floyer, Lucio Fontana, Sam Francis, Katharina Fritsch, Heinz Gappmayr, Jochen Gerz, Raimund Girke, Eugen Gomringer, Gotthard Graubner, Katharina Grosse, Hans Haacke, Marcia Hafif, David Hammons, Oskar Holweck, Stephan Huber, Alfonso Hüppi, Pierre Huyghe, Ray Johnson, Isaac Julien, Ellsworth Kelly, Per Kesselmar, Astrid Klein, Yves Klein, Harald Klingelhöller, Bernd Koberling, Christina Kubisch, Raimund Kummer, Mark Lammert, Henning Lohner, Inge Mahn, Piero Manzoni, Joseph Marioni, Agnes Martin, Sara Masüger, Reiner Maria Matysik, Bruce Nauman, Yoko Ono, Roman Opalka, David Ostrowski, Nam June Paik, Otto Piene, Thomas Rentmeister, Bridget Riley, Robert Ryman, Karin Sander, Hanns Schimansky, Michael Schirner, Gregor Schneider, Jan J. Schoonhoven, Nina Schuiki, George Segal, Qiu Shihua, Mark Tobey, James Turrell, Günther Uecker, Timm Ulrichs, Klaus vom Bruch, Lothar Wolleh, et al.
Scroll