Brecht-Weigel Museum
Akademie der Künste Berlin © Photo: Erik-Jan Ouwerkerk
Museum Visit
The living quarters of the artist couple Bertolt Brecht and Helene Weigel can be visited on guided tours. On request we offer guided tours in English.
In addition, in cooperation with the Ev. Friedhofsverband Berlin Stadtmitte, tours of the Dorotheenstadt Cemetery (always on Wednesdays at 2 pm) as well as lectures and walks on various topics are offered.
If possible, please register for all tours via e-mail at brechtweigelmuseum@adk.de.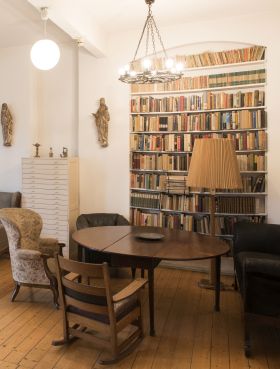 Akademie der Künste, Berlin © Photo: Erik-Jan Ouwerkerk, 2015
The Brecht-Weigel Museum is located in the side wing of the Brecht Haus in Chausseestraße 125, close to the French and Dorotheenstadt cemeteries, the last resting place of Huguenot generals, writers, composers, sculptors, philosophers and actors. Bertolt Brecht lived in his apartment on the first floor of the side and back wing of the Chausseestraße building from October 1953 until his death on 14 August 1956. His decision to move into this apartment of a 'decent size', as he wrote to his publisher Peter Suhrkamp, was especially motivated by its proximity to the Berliner Ensemble, the Akademie der Künste Berlin and the historic cemeteries. The size of the rooms offered Brecht enough space to have several desks where he could work as well as room for discussions with students. The apartment also houses Brecht's private library with approximately 4,000 volumes which today are available to users of the Bertolt Brecht Archive. During Brecht's lifetime, Helene Weigel lived in an apartment on the second floor of the side wing. After Brecht's death, she founded the Bertolt Brecht Archive in her apartment. A year later in 1957, she left these rooms to the Bertolt Brecht Archive and moved into an apartment on the ground floor where she had a veranda added leading into the garden. She lived in this ground-floor apartment until her death on 6 May 1971. The Brecht-Weigel Museum was opened on 10 February 1978 to mark what would have been Brecht's eightieth birthday. In each of the apartments, three rooms have been kept in their original condition.
The other institutions in Brecht-Haus include the Bertolt Brecht Archive and Helene Weigel Archive, which also belong to Archives of the Akademie der Künste, and the independent Literaturforum im Brecht Haus.
Scroll